In 2019, Brisbane Airport in Australia received more than 24 million domestic and international passengers. With over 425 companies based at Brisbane Airport, you're not going to have problems exchanging your cash for AUD there, albeit it might not get you the best rates.
Currency exchanges inside the airport cater to a captive market and are not custody of any competition. This ensures they can get comfortable with putting forth a poor deal, owing to the absence of competitors undercutting their prices. You need to pay in AUD for your stay in Brisbane, and to ensure you get the best rates when you buy AUD, pre-ordering online currency or by taking your cash out straight from an ATM upon arrival might buy you your money's worth.
This would ensure that you get to choose the best exchange rates from a wider range of options.
Pre-ordering cash online and collecting it at Brisbane airport
This is undoubtedly the most economical option available for buying cash at Brisbane airport. The exchange rates are much cheaper than buying them at the counters.
Pre-ordering cash involves:
Buying the money online and then choosing Brisbane Airport as the collection site.
Paying for it using BPAY which is Australia's online electronic bill payment service, and thereby avoiding the card fees.
Collect the cash from the counter.
Important information to remember:
The amount of money you request is reserved on the same day as the transaction. Additionally, you can also choose the day you will collect the money. However, if you pay via BPAY, you have to allow the service 3 days' time before you can collect it.
You shall be offered better value for transactions over $2000 but have a limited purchase value of up to $5000.
Breaking down the exchange rates
When trading currencies among themselves, banks use the mid-market rate. The middle rate, also known as the interbank rate is used when performing a foreign currency exchange to denote the average rate settled upon.
The banks incorporate hidden fees to the amount their consumers are charged with. That's why you'll see varied exchange rates across banks – you pay the full amount and also cover the difference between the bank's mid-market rate and quoted cost.
There seems to be no 0 percent commission cost. It is concealed in the total amount and customers unknowingly lose money to this.
How to enjoy the best exchange rates?
Most travel guidelines recommend that you give up relying almost entirely on cash when visiting other countries, and instead relying on cards: specifically, credit cards, and cash debit / ATM cards upon arrival.
ATM is the best place to swap money, usually providing better rates and lower charges (guess it all depends on your bank and destination). Foreign transaction fee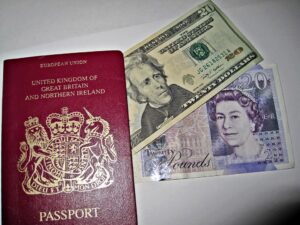 s are becoming increasingly redundant. Some banks charge foreign transaction fees of about three percent, but most major banks have discontinued these fees, allowing ATMs to be the best way to swap currency.
Step I
The first and only way to verify if you are being offered the right rate of exchange is to gain information about what the current rate is. For an up-to-date insight into the current rates of exchange, you will have to check with sites like XE that offer updated exchange rates.
Also, looking to buy currency in advance of your travel is better done with friends or peers when it's absolutely necessary so you can share the bill.
Step II
Steer clear of the exchange services that you will see all over at airports, train stations, and tourist hotspots as they usually have some of the worst prices. You will probably have access to the best exchange rates through banks, post offices, and American Express offices. Even hotel exchange services, if they are providing one, are worth giving a try.
Scan the listed exchange rates thoroughly and request for the net rate on any commissions that are levied.
Step III
Lastly, stay on the alert for fake currency exchanges which are a means of scamming the buyer and also a source of bogus money. Indeed, at respectable banks, hotels, or state-run post offices you ought not to come across this issue.
Step IV
Remember that paying in US dollars or your home-currency isn't always a wise thing to do, even if the possibility is available to you. The price listed in US dollars or your home-currency may be comparatively a little too much in countries where the exchange rate is variable; often because the retailer will bill you a little additionally for the luxury offered in purchasing with your own currency. Payment with local currency will always be the right choice.
You should know to avoid dynamic currency conversion (DCC) when you withdraw local cash at an ATM upon arrival in Brisbane. DCC means that you are basically telling an overseas ATM service or bank to make an exchange rate for you. To which they will cheerfully comply with, while at the same time charging you an excessive amount for it. Without you realizing, the banks simply take away your money sneakily.
What to do upon reaching the Airport in Brisbane?
If indeed, you miss out on all the forewarnings and also on pre-ordering cash and are unable to collect cash from an ATM machine, there are options for currency exchange at the airport itself.
Brisbane airport conducts currency exchange operations through Travelex, a renowned foreign exchange company. There are currently 11 different Travelex currency exchange points at both departures and arrivals all across the airport.
Travelex ATMs are also available to allocate cash in foreign currencies including USD, EUR, and NZD.
While Travelex monopolizes over all the different currency exchange options available at Brisbane Airport, depending on which exchange point you select, you will note that you are billed different fees-and that you get a varied exchange rate.
Having your currency exchanged at the airport is never the best solution, so it is definitely worth the effort to do some homework in order to avoid paying heavily for your exchange prospects.