Order Online | Home Delivery & Australia Post Collection
Currency Exchange Blacktown
Best Exchange Rates for Currency Exchange in Blacktown
Currency exchange in Blacktown, NSW has never been easier or simpler! No matter what currency you're looking for, we've got it all here. It is best to sort out all of your money before starting your travels, as this can help reduce stress and ensure you are well prepared.
Choosing to exchange your currency online is usually a much better option since rates for all currencies online – and commission on currency exchange – usually prove to be cheaper. The whole process is also less time-consuming. Usually, you just need to select the currency you need and then enter how much of it you want. You can then select to either have it delivered directly to your home or leave it for pick up at a local branch. Once this step is successfully completed, just choose how you will be paying for this and enter your contact details. Now you're all done!
It usually takes around 3-5 business days for the currency to be ready for pick-up or delivery. Before selecting where you'll be buying your currency, also make sure you compare currency rates with different banks or providers. This will help you find the best possible rate since some have better conversion fees than others. Using an online currency converter will help make this process quick and easy.
There are quite a few overlooked positives of buying currency online. Finding currency online provides you with options for cashless transactions, which is especially helpful if you do not want to be carrying large amounts of cash in public. Also, if you're looking to buy some unpopular currencies (such as Swiss Francs or Canadian Dollars) then buying online is the option for you. Banks often don't have unpopular currencies in stock in-store, so buying online gives them enough time to order some.
Finding great currency rates online is usually easier since you have access to tools such as currency converters while comparing different rates. Buying currency offline might seem convenient if you do not have enough time to order online – however, it can turn out to be quite costly. This is why it's important to be prepared and to plan a few weeks ahead.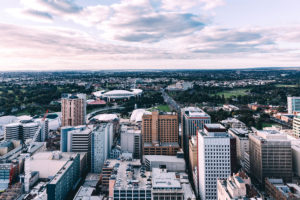 Make It Easy On Yourself, And Change Your Experience For Good
Do you want to get the best money exchange in Blacktown? Just make an order. Sit back and relax as your travel currencies make their way to your doorstep. No more long lines, difficult parking or poor rates. Getting currency exchanged online and delivered to your address in Bankstown has never been simpler.
More about how Foreign Xchange works
Foreign Xchange employs the latest technological and operational standards to ensure your privacy and payment details are in safe hands. We only work with premium couriers companies and our deliveries are fully insured for your peace of mind.
Place Order
Where should I exchange currency and do my money transfers in Blacktown: at Travel Money OZ, Lotus Foreign Xchange, or somewhere else?
If you decide that exchanging currency online isn't the best option for you, then there are still many other options to explore for currency exchange in Australia. Using a specialist money exchanger can be useful for both exchanging currency and international money transfers. They are usually quite cheap if you are looking for common currencies (such as British Pounds or US Dollars) and don't charge excessive major currencies commission rates. Finding the best exchange rate is dependent on how competitive the outlet is. Finding a specialist money exchanger in the city means it will have to compete against many other stores, so the currency exchange rates will be much lower there.
Or you may choose to change currency using a bank. This can be a cheap or costly procedure depending on what currency and how much of it you're looking to exchange. It is a better idea to use banks to exchange unpopular currencies (such as Japanese Yuan or South African Rand) instead of common currencies, since banks are not very competitive with other outlets.  
Another possible option is using Australia Post Offices since they usually have an American Express Currency Exchange centre. This option is usually only used by those with little time since it can prove to be quite expensive. The Australia Post – or shops like UAE Exchange -offer exchange rates that are constantly going up and down, so ensure to check the market before buying any currency from them.
You may also choose to buy some currency from a friend if they have any leftover from recent travels. However, buying from a friend is not usually recommended since there is never a guarantee that they will go through with the offer. There is also a high risk of obtaining counterfeit or old notes from them – which are unsafe for use. Of course, there are still some upsides to this choice. You can negotiate the money exchange rate which offers some flexibility and the chance to save some money which could be better spent during your travels.
Tips on foreign currency exchange
There are a few yet simple tips to keep in mind while exchanging your currency! Some of these can also apply to when you're buying or selling foreign currency using various exchangers available in most major shopping centres – like Westpoint Shopping Centre, Patrick ST Blacktown NSW or in Winston Hills Mall.
First of all, don't buy too much cash! You are legally required to declare amounts of cash higher than AUD $10,000 before boarding your plane. The process shouldn't take too long though and can be done by filling out a declaration form that just requires you to state exactly how much cash you have and what you plan on using it for. Avoiding this process is illegal and attempting to divide the money through other travellers can also prove disastrous.
It's also a good idea to educate yourself on the taxes of the country you're traveling to. There is a different system used in each country. Some may be similar to Australia, but others may prove to be quite different, such as the US and Canada. While Australian taxes are included in the price, the foreign ones are only shown in the final receipt. Other countries, such as the UK, also allow you to get a refund on some taxes (Value Added Tax). Acquiring knowledge on this will aid you in avoiding extra fees and saving some money. Additionally, it would also prove to be beneficial to obtain some currency guides full of currency knowledge and extra information.
Many countries (for example the UK, Canada, US and so on) expect tips while eating out or for different services. Ensure to carry extra cash for it or any other spending needs which may come up. Although keep in mind, some outlets may even allow you to tip with travel cards. As well as using travel cards, you may choose to use travellers cheques or even American Express travellers cheques are available. If you're not sure how much to tip, there is usually a suggested tip amount given on the receipt. A low tip is usually around 10% while 20% is quite high, 15% is considered an appropriate amount.
In 2019, Brisbane Airport in Australia received more than 24 million domestic and international passengers. With over 425 companies based
The cheapest way to buy Euros in Australia is online. You can save money on commission fees, shopping around
In this ultimate guide, we go through our top 9 things to consider before heading overseas. No matter where