Order Online | Home Delivery & Australia Post Collection
Currency Exchange Bankstown
Best Exchange Rates for Currency Exchange in Bankstown
Currency exchange is simple and easy in Bankstown NSW. Whether you want Japanese yen, Indonesian rupiah, British pounds or Thai baht – all currencies are available and quick to come by.   
It is usually easiest to order any currency online. Very often this proves to be the cheapest option,  too. The first step is to select the currency and the amount you need. Then you can usually choose to have it delivered or picked up. Finally, you will be offered to pay by card or bank transfer. The easy process is then complete!
Exchanging foreign currency online is quickly becoming more popular for several reasons. 
Most exchange rates offered online are much better than options in-store. There is also easy access to an online currency converter when you are calculating how much you need. There are usually plenty of pick-up options offered, which makes it easier to collect your cash rather than having to travel to the Bankstown city centre. If picking up your order still proves too difficult, there is always an option to get it delivered to your home. 
While buying foreign currency at a bank is still an option, this can affect your cash exchange in a number of ways. Factors such as the currencies currently available, the amount of money you need,  or the cash pick-up location can determine whether or not your experience is successful. Of course, if the currency you require is not available then the bank can order it. The process usually takes around 5 business days.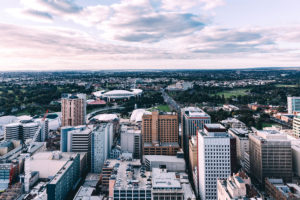 Make It Easy On Yourself, And Change Your Experience For Good
Do you want to get the best money exchange in Bankstown? Just make an order. Sit back and relax as your travel currencies make their way to your doorstep. No more long lines, difficult parking or poor rates. Getting currency exchanged online and delivered to your address in Bankstown has never been simpler.
More about how Foreign Xchange works
Foreign Xchange employs the latest technological and operational standards to ensure your privacy and payment details are in safe hands. We only work with premium couriers companies and our deliveries are fully insured for your peace of mind.
Place Order
How to get great foreign currency exchange rates
Finding a good exchange rate helps you save crucial money which can be better spent on your travels. When you keep these tips in mind, you'll be able to grab the best exchange rates available and money saving will be a breeze.
Firstly, ensure that you know the official exchange rate of the country where you are planning to travel. This will give you a simple guide that will be helpful to use while comparing the exchange rate offers. Using an online currency converter is the easiest way to find out the current rate. There are also many currency guides available that will help you compare exchange rates for the currency you need.
Secondly, avoid buying and selling foreign currency in airports. This may be a convenient option, but it can also be quite costly. Kiosks charge considerably higher rates due to most of their users being travellers who require money ASAP. 
Make an extra effort to ensure that you're only exchanging as much money as you truly require. While this may seem pretty obvious, quite often, travellers find that they buy too much foreign cash and then need to pay an Australian exchange rate once again when they return from their travels. Since cash is not traceable, this also means that if it is stolen there is no easy way to recover it. Figuring out the amount of money that is required for your trip is most easily done by using a spreadsheet. There are many free spreadsheets available online. When your travel expenses are entered into the worksheet, there is an option to select a pie chart which will show you what your money is being spent on. A handy way to juggle your travel costs!
Last but not least: if you're a senior – take the advantage! People over the age of 60 years can ask for a senior discount. You can usually be offered better rates if you're a senior. 
Some mistakes to avoid when exchanging currency
Avoid travellers' checks when possible. Of course, this used to be quite a popular choice for exchanging foreign currency. However, this has now been replaced with credit or debit cards – particularly since there are no transaction fees for buying or selling foreign currency. Avoiding travellers' checks is also a smart idea since they can be a nuisance to exchange since you need to find a bank at your destination which accepts them. Notably, many banks either don't accept travellers' checks or charge  1% – 3% to cash them in. Similarly, hotels and stores don't accept as many checks as they used to. 
It is also quite crucial to familiarise yourself with the form of money most widely accepted in your destination. For example, in Sweden and surrounding countries, cash is hardly ever used since more and more hotels and shops are only accepting debit or credit cards. But when we look at countries similar to Germany, cash is plentiful and thriving. Other countries such as Cuba don't have the necessary infrastructure for proper acceptance of debit or credit cards. 
Quite a few travellers like to buy currency from a friend who has had some left-over from one of their previous holidays since this can seem like a cheaper option. While this is appealing at first, it is not recommended to do so. At times, this can be cheaper since you avoid possible extra charges from a money exchanger. However, there are also risks of obtaining old or counterfeit notes – or the transaction just might not go ahead as you had planned. 
While travelling overseas, remember that you don't have to take all of your money in cash form. Taking some currency in cash for transportation and meals is a smart idea but then including a mix is also beneficial. For example, taking prepaid travel cards with currency for hotels or large purchases would be more practicable. 
Which money changer is best for international money transfers?
For your international money transfers, it also pays to shop around for the best rates. Many well-known institutions such as Western Union, Travel Money OZ  and Australian Exchange all have offices in Bankstown Central in North Terrace – or can be easily found online. 
When comparing your money transfer options, always make sure you take into account not just the currency exchange rates, but any other fees and commissions that most money exchangers are likely to charge.
In 2019, Brisbane Airport in Australia received more than 24 million domestic and international passengers. With over 425 companies based
The cheapest way to buy Euros in Australia is online. You can save money on commission fees, shopping around
In this ultimate guide, we go through our top 9 things to consider before heading overseas. No matter where