Order Online | Home Delivery & Australia Post Collection
Currency Exchange Belconnen
Best Exchange Rates for Currency Exchange in Belconnen
The currency exchange service in Belconnen is easily accessible. Need Indonesian rupiah, British pounds, or Thai baht? It's all here and ready for you! 
Whether you are planning a trip overseas or investing in some foreign currency, you need to decide how you're going to sort out your money. Exchanging foreign currency online rather than in-store can be a great way to reduce unnecessary stress and even to save time. Currency rates online are nearly always better.
There are usually only two steps you need to take when buying online. 
First, you must enter the amount you require. Then, you have an option to pick your money up at a local branch or to have it delivered directly to your home. Once the first step is complete, you'll be asked to enter your contact and payment details – and you're done!  Just keep in mind that the currency may take 3-5 business days to be delivered or be available for pick-up.  Make sure to compare different bank rates as well, since some will offer better currency conversion fees than others. This can be easily done by using a currency converter.
There are a few especially good reasons to buy currency online. For example, you might want to avoid carrying a large amount of cash. Buying online gives you the option of cashless transactions. Also, you might need a currency that isn't very popular (popular currencies include Euros or USD). Currency exchange stores usually stock up on the most common currencies. If you were to try and get currency such as Canadian Dollars or CFP Francs, they probably wouldn't have the amount you need.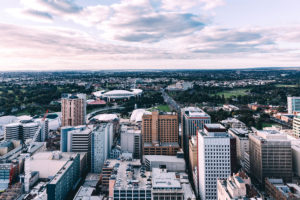 Make It Easy On Yourself, And Change Your Experience For Good
Do you want to get the best money exchange in Belconnen? Just make an order. Sit back and relax as your travel currencies make their way to your doorstep. No more long lines, difficult parking or poor rates. Getting currency exchanged online and delivered to your address in Belconnen has never been simpler.
More about how Foreign Xchange works
Foreign Xchange employs the latest technological and operational standards to ensure your privacy and payment details are in safe hands. We only work with premium couriers companies and our deliveries are fully insured for your peace of mind.
Place Order
The Do's and Don'ts of travelling, money transfers, and foreign currency exchange at Westfield Belconnen
Keeping in mind a few quick and simple tips is the first step to getting the best currency exchange deal in Australia – and to conducting your international money transfers! These tips are also useful if you are looking to buy or sell foreign currency. 
Most currency exchange shops at Westfield Belconnen ACT are open during business days or from Monday to Saturday. These are:
Crown Currency Exchange
Travel Money OZ
Unimoni (previously known as UAE exchange)
Travelex Australia Holdings Pty Ltd
Try to get all of your currency before starting your travels. Buying foreign currency beforehand can help you save and avoid any unwanted extra exchange fees. Giving yourself at least a few weeks to organise some currency is the way to go. If possible, give yourself a month – that would allow you to familiarise yourself with the markets.
Make sure to educate yourself on the taxes that the countries you're visiting have. Each country has a different system for taxing. Some countries will have the taxes included in the price as well (similar to Australia). However, this is not always the case in other countries, such as in the US and Canada, where taxes are only included in the final receipt. Countries like the UK also give you the option to get a refund on your taxes ((Value Added Tax). Knowing this will help you set appropriate spending limits and avoid paying extra fees.
Countries such as the UK, US and Canada expect tipping for local services or when eating out. If you plan to visit these countries, make sure to set some extra cash aside for it. In general, it's a good idea to have a small amount of money in cash just to be prepared. However, most stores will give you the option to tip in cash or with travel cards. There is always a suggested amount for how much to tip on the receipt. Generally, 10% is considered a low tip while 20% is considered much higher than average. 15% is usually the middle ground.
Be aware that you must legally declare amounts higher than AUD $10,000 in cash before leaving the country. This usually doesn't take too long. You need to fill out a declaration form stating how much cash you have and for what purposes. Failure to do so is illegal. Trying to avoid this process by dividing the money among a few other travellers is also not recommended.
The exchange rate of foreign currency at Australia Post and other locations – which is the cheapest?
If you decide that buying currency online is not an option for you, there are a few other options available instead. (However, keep in mind that currencies today are usually much easier to get online than in stores.)
One popular choice is to use a specialist money exchange store located in your city. This usually proves to be the cheapest if you are buying common currency, such as US dollars, Euros or British Pounds. Getting the best foreign exchange rates depends on the competitive rates of different suppliers. City centres hold many businesses trying to offer the best currency exchange rates. Shopping around will help you find the best one. 
Another common option is to exchange currency through a bank. This can sometimes prove to be expensive, but if you play your cards right, it can also be a viable option. Popular currencies, such as the ones mentioned above, are usually the best to exchange at a bank. However, less common currencies such as Japanese Yen, Chinese Yuan, South African Rand, and Malaysian Ringgit can be much cheaper.
Australia Post Offices usually have an American Express Currency Exchange centre, which is usually used by those in a rush. The exchange rates offered are always going up or down, so it's good to check the market before heading there. 
Many also choose to get currency from a friend (who might've just returned from, say, Solomon Islands.) However, this is not recommended since it's not guaranteed they will stick to their original offer. Additionally, there are some risks that your friend may have old or counterfeit notes which are not safe to use. On the other hand, buying left-over currency from a friend's holiday allows you some flexibility since you might have an opportunity to negotiate the exchange rate.
In 2019, Brisbane Airport in Australia received more than 24 million domestic and international passengers. With over 425 companies based
The cheapest way to buy Euros in Australia is online. You can save money on commission fees, shopping around
In this ultimate guide, we go through our top 9 things to consider before heading overseas. No matter where