Order Online | Home Delivery & Australia Post Collection
Currency Exchange
Chermside
Best Exchange Rates for Currency Exchange in Chermside
Finding the right currency exchange service in Chermside (a suburb of Brisbane QLD) has never been easier! Westfield shopping centre Chermside (CNR Gympie and Hamilton RDS Chermside) provides a variety of currency exchange services for you – no matter what currency you need. Currencies available include Japanese yen, British pounds, Indonesian rupiah, and much more. 
The Westfield shopping centre has money exchange shops like Travelex Currency Exchange or UAE Exchange. You can also visit a Suncorp Bank branch at Westfield and get a Cash Passport Travel Money Card there.
However, you will find that ordering currency online is often the easiest and cheapest option. Your first step is selecting what currency you need and how much you need of it. Then you have to choose either the home delivery or pick-up option. If you select the pick-up option, you will need to collect the currency at a bank or an Australia Post office. 
Why is exchanging currency online becoming popular? There are a few answers to this question. 
Exchange rates that are available online are nearly always better than in-store. You also have access to online currency guides.  You can use a rate tracker to keep an eye on rate changes over time. You can also use a currency converter. Whether you want to get the best available rates for an international money transfer, or buy a travel money card – some currency knowledge is always necessary.
Buying currency at a bank is, of course, still an option. But keep in mind that this can affect your currency exchange in a few different ways. The availability of currencies in-store or how much cash you need can make this process more challenging than it needs to be. Even the pick-up location of your cash can affect your experience. If the currency you are after is not available, the bank can order it for you – but it takes approximately 3 – 5 business days.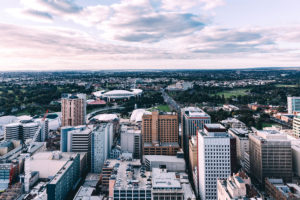 Make It Easy On Yourself, And Change Your Experience For Good
Do you want to get the best money exchange in Chermside? Just make an order. Sit back and relax as your travel currencies make their way to your doorstep. No more long lines, difficult parking or poor rates. Getting currency exchanged online and delivered to your address in Chermside has never been simpler.
More about how Foreign Xchange works
Foreign Xchange employs the latest technological and operational standards to ensure your privacy and payment details are in safe hands. We only work with premium couriers companies and our deliveries are fully insured for your peace of mind.
Place Order
Is it better to conduct money transfers and foreign currency exchange at a bank – or at a currency exchange shop like Travel Money OZ?
Ultimately, it is best to buy foreign currency online. However, using a specialist money exchanger can also be a viable option. This usually works better if you need to buy large quantities of USD, Euro, or British pounds. Finding the best exchange rate depends on how much competition there is in the area. More businesses compete against each other in the city centre. So, you should be able to find the lowest rates on offer there. 
Keep in mind that, if you are thinking of using a specialist money exchanger, they usually don't have a large amount of cash available in uncommon currencies such as Thai Baht. Money exchangers also do not usually have enough money to supply many customers on a busy day, which means you may need to wait longer for your money. This can be avoided by contacting your preferred exchanger beforehand, so they may leave some extra for you.
Remember that you cannot use an ATM to withdraw foreign cash. Some specific ATMs allow you to do so, but these can be pretty rare depending on where you are. Using one of these ATMs is only convenient for transactions that are less than $500.
Using a bank can usually prove to be cheaper. The foreign exchange rates banks offer for common currencies, like USD dollars or Euros, aren't very competitive when compared with other currency exchangers. This means that the rates are usually the same at different outlets. However, banks can be particularly good options if you're looking to exchange less common currencies (such as Malaysian Ringgit).
You also have the option to exchange foreign currency at a post office. There are many Australia Post Offices that have an American Express Currency Exchange centre. This is usually used by those who are in a rush to buy currency.
How to get the best currency exchange rates – for a money transfer or when buying cash
Firstly, make sure to watch out for fees. Before you make the money transaction, make sure you ask if you will be charged a fee, a commission, or if there are other extra charges. If you are buying online, take some time to check exactly what you are paying for, or to read the Product Disclosure Statement. 
If you plan on exchanging your currency at a bank or local branch, give them a call before heading in. Doing so will help you make sure that they have the currency, as well as the amount of money you require. It's also worth checking if they have the denominations that you prefer. Otherwise, you may show up there only to find that the bank does not offer anything below a 50 dollar note.
Another helpful tip is not to take all of your money in cash. You can make it simpler and easier for yourself by including a mix of currency in different forms, which is what most Australians decide to do. Some currency in cash is useful for paying taxis, as well as to buy meals and travel accessories. Any currency on prepaid travel cards can then be saved for hotels, other transport and large purchases. Remember that taking your Australian debit or credit cards can be a good back-up in case you do run out of money.
Best places in the USA Gallery

AUD to USD

,

blog

,

Currency Exchange ACT

,

Currency Exchange Adelaide

,

Currency Exchange Brisbane

,

Currency Exchange Canberra

,

Currency Exchange Darwin

,

Currency Exchange Hobart

,

Currency Exchange Melbourne

,

Currency Exchange NSW

,

Currency Exchange NT

,

Currency Exchange Options

,

Currency Exchange Perth

,

Currency Exchange QLD

,

Currency Exchange SA

,

Currency Exchange Sydney

,

Currency Exchange TAS

,

Currency Exchange VIC

,

Currency Exchange WA

,

Uncategorized
What are the best places to go in the USA? The USA is famous for its tourist attractions -
What can 100 AUD buy in the USA Gallery

AUD to USD

,

blog

,

Currency Exchange ACT

,

Currency Exchange Adelaide

,

Currency Exchange Brisbane

,

Currency Exchange Canberra

,

Currency Exchange Darwin

,

Currency Exchange Hobart

,

Currency Exchange Melbourne

,

Currency Exchange NSW

,

Currency Exchange NT

,

Currency Exchange Options

,

Currency Exchange Perth

,

Currency Exchange QLD

,

Currency Exchange SA

,

Currency Exchange Sydney

,

Currency Exchange TAS

,

Currency Exchange VIC

,

Currency Exchange WA

,

Uncategorized
What can I buy with 100 AUD in the USA? If you're planning a trip to the USA, then
Travelling to the USA Gallery

AUD to USD

,

blog

,

Currency Exchange ACT

,

Currency Exchange Adelaide

,

Currency Exchange Brisbane

,

Currency Exchange Canberra

,

Currency Exchange Darwin

,

Currency Exchange Hobart

,

Currency Exchange Melbourne

,

Currency Exchange NSW

,

Currency Exchange NT

,

Currency Exchange Options

,

Currency Exchange Perth

,

Currency Exchange QLD

,

Currency Exchange SA

,

Currency Exchange Sydney

,

Currency Exchange TAS

,

Currency Exchange VIC

,

Currency Exchange WA

,

Uncategorized
What do I need to know before travelling to the USA? The USA offers many exciting opportunities for all