The Cash Passport From ForeignXchange
The cash passport from Foreign Xchange is a prepaid travel money card. Instead of carrying foreign currencies overseas, you can load up a cash passport and use it to buy things. The Cash Passport Platinum Mastercard can be used to purchase goods and services at thousands of locations right across the world. 
You can make purchases in-store or online just like any other Mastercard credit or debit card. If you are travelling to multiple countries you can load more than one currency to a single card. 
The Cash Passport also allows you to lock in the exchange rate at the time of purchase. Meaning if the rate changes, you don't lose out and you know exactly how much you have left to spend. 
You can also use your travel card to withdraw local currency directly from ATMs whilst you are overseas. Anywhere you see the Mastercard logo, your cash passport will be accepted.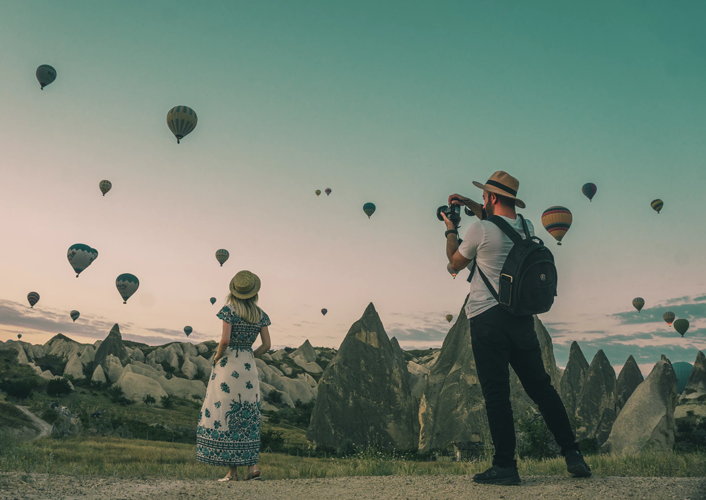 11 International Currencies
With the a Cash Passport you can load 11 different international foreign currencies with one prepaid card: GBP, EUR, USD, NZD, CAD, HKD, THB, JPY, AUD, AED and SGD.
No Additional Load Fees
Make travel easy with zero load fees and nothing to pay for card issuing. Travel freely with our Cash Passport Platinum.
Accepted accross millions of places
Just like any bank or credit card, you should treat a Cash Passport Platinum the same, only with your personal money pre-loaded. Pay for trips, food and excursions online, in-store or withraw foreign cash from local ATMs overseas.
24/7 Round The Clock Assistance
No matter where you are, we can help. If your prepaid card is stolen, damaged or misplaced, we can assist and help you with a replacement or provide you with emergency funds.
What Currencies Can I Load Onto a Cash Passport?
Currently, there are 11 different currencies that you can load onto a cash passport. Which is great news if you are heading off to a country that uses one of the currencies featured in the list below.
Place Order
The Foreign Xchange currency card is easy to reaload, you can add just about any currency, just about anytime, and anywhere.
How can you reload your travel card online?
Debit Card Transfer (immediate)
Bank Account Transfer (1 working day)
BPAY Account (1-2 working days)
Already purchased your cash passport at FX? Why not pop in and top up your Cash Passport with us today!
Register your card online and you can track how much you're spending through your phone, laptop, PC or tablet.
Register for 'My Account', so you can:
Track how much your spending
Reload or top-up your card
Transfer money between currencies
Retrieve your secure PIN number
Suspend your card temporarily/permanently
Cash-out any remaining balance
Got a smartphone?  Download the Cash Passport app, available for both iOS & Android.
Gain complete freedom by using ultra-fast contactless payments overseas. Tap & Go at restaurants, shops, convenience stores and just about everywhere else.
Look out for the universal contactless payments logo and your Cash Passport is ready to be used.
Heading to London? Tap on and off at the London Underground and make travelling around, seeing the sites a complete breeze.
Cash Passport Platinum is fully protected by standard Chip & Pin services allowing you to spend money securely.
Mastercard Zero Liability protects against fraud and any unauthorised transactions that could occur if you card becomes stolen or lost.
If you need a back-up travel card, the solution is easy. Split your spending money across two separate Cash Passports and order two from us today.
You have full access to our global assistance team that are ready to help you if your card becomes stolen, lost or damaged.
We can help provide emergency funds or send you a replacement card so that you don't have to stress whilst you are still on holiday.
If you require more help check out our  frequently asked questions or contact us directly.
Global Wifi for Free
Have the freedom you deserve with millions of Boingo wifi hotspots all around the world for free. Each and every time you recharge your travel card with Foreign Xchange you get 3 months of free Boingo wifi.
Domestic & International Card to Card
'Card to card' gives you the ability to instantly transfer money from one account to another, in both Australia and New Zealand, across currencies of their choosing.
How does a cash passport work?
Although similar to a credit or debit card, a cash passport is unique in the sense that it is not linked to your bank account. Acting as a prepaid travel money card, you can load money onto it based on how much you think you are going to spend. The best part is if you start running low of funds whilst you are overseas you can top-up your card instantly online.
Unlike a credit card, you can only spend what you have loaded on to the card. Fortunately, you can check your balance at ATMs or online through the cash passport website. Making it easy to track how much travel money you have left, and how much you are spending.
The travel card cash passport has full payWave capabilities making it easy for you to pay for goods and services overseas. You can use this contactless feature wherever you see the Mastercard logo overseas (provided the business has an eligible device). All cards also have chip and pin, as well as a magnetic strip on the back for traditional forms of payments.
Essentially, you should treat a cash passport similar to a debit card. Although you're not limited if you want to use the card here in Australia, it's main purpose is for payments for overseas transactions when you're on holiday.
AUD – Australian Dollars
GBP – Great British Pounds
USD – United States Dollars
EUR – European Euros
NZD – New Zeland Dollars
CAD – Canadian Dollars
THB – Thai Baht
HKD – Hong Kong Dollars
JPY – Japanese Yen
SGD – Singapore Dollars
AED – United Arab Emirates Dirham
As always, prior to your departure and purchasing any form of foreign currency. Make sure that you carry out thorough research into the currency that you need to exchange. Especially when travelling to the European Union as different countries may have their own currency still.
If you are heading to more than just one country, a cash passport can be a great way of carrying multiple currencies around with you. Without having to worry about transporting large sums of cash overseas.
Where can I purchase a cash passport?
You can purchase a cash passport online today in a matter of minutes. With Foreign Xchange, we're here to make your life easy. Whether you need to purchase foreign currencies or load up a cash passport we're all about the convenience.
Using our online currency calculator, you can select the currency you are after. Tap in the amount you would like to exchange and whether you want to buy cash or load up a travel card. Once you are happy with the rate and amounts, hit the buy currency button and head on through to our easy to use one-page checkout.
Complete your purchase by filling out all your delivery details and we'll send you cash passport off to you as soon as we've received your order. You can pay for your top-up with BPAY, POLI or direct bank transfer. It really is that easy.
All purchases of foreign currency through our site must be verified through a quick and easy proof of ID check. This is required by AUSTRAC (Australian Transaction Reports and Analysis Centre) to ensure all of our customers are genuine.
We simply require one form of identification to be uploaded when completing your purchase. A valid ID must contain the below information:
Full Name
Date of Birth
Address
Signature
Photograph
ID Number
Issue and Expiry Date
Your form of ID must be government-issued. An Australian drivers licence or passport are both good examples of a valid form of ID.
How can I top-up my cash passport?
Topping up or loading your cash passport is easy. Once you have received your Platinum Mastercard travel card in the post, simply follow the instructions by logging into your account and activating your new prepaid card.
Here you will be able to view your existing balance and also be able to top your prepaid card up in a matter of minutes. The best part is, you can do this anywhere anytime, all you need is an internet connection.
So if funds start to get a little low when you're on your holiday, you can transfer and load up your card in a matter of moments.
Why choose a cash passport over physical currency?
One of the huge benefits of exchanging your Australian Dollars onto a cash passport is that you can lock in your rate at the time of purchase. No matter if the exchange rate starts to slide, you can be safe in the knowledge knowing that the rate at the time of purchase is locked in for good. This can be a game-changer if you're a frequent flyer and track exchange rates across multiple currencies regularly.
Another great benefit is that you can top up your travel card anytime and anywhere. All you have to do is logon to the cash passport online portal, head into my account section and top up from there.
Topping up via a debit card works instantly and will reload your card in a matter of minutes. Using a bank transfer or your BPAY account can take anywhere up to 1-2 business days.
Rather than worrying about carrying large amounts of cash, a Platinum Mastercard cash passport can be a great alternative. You also don't have to waste time trying to learn the ins and outs of every banknote. Just tap and go with your cash passport and you will never have to worry if you've overspent or misplaced your cash.
If you do happen to lose your travel card whilst you are overseas, you can simply contact our team who will help you cancel it. Or if your card is stolen, we can assist you in putting a block on all transactions to prevent any kind of fraud.
Also, because your cash passport is not tied to a bank account, these types of payment cards are considered a lot more secure than a standard credit or debit card. Mastercard also offer a 24/7 Global Emergency Assitance helpline that you can contact directly if you require assistance.
Having both a travel card such as the cash passport and a small amount of physical foriegn currency can be a great option. In some areas, you may find that cash is the only way to pay for a quick coffee or a small souvenir.
Does it cost any money to load a cash passport?
There are no fees involved when topping up your cash passport.
No matter how many times you need to reload your card, you will always transfer and get the money you need and not incur any additional fees.
If you rely on foreign cash only, you could incur commission or transaction fees if you need to exchange money when you're overseas. This could mean you don't get as much for your money as you would if you ordered a prepaid cash passport prior to your departure.
How long will it take to receive my cash passport?
From the moment we receive your order, we will load, dispatch and express post your travel card and try to get it to you in as little as three business days. Whether you are ordering foreign cash or this prepaid travel card, all orders are fully insured to give you complete peace of mind.
We dispatch all forms of currency in our super secure, Airlock bags. This ensures us that nobody can tamper with your travel money before it arrives at your door. On arrival, our Australia Post Startrack courier will ask for a quick ID check to make sure your cash passport falls into the correct hands. This gives us peace of mind as we can make sure that you have got your hands on your currency safely and securely.
It's these types of reassurances that keeps our customers buying currency from us every time they are about to head overseas.