Order Online | Home Delivery & Australia Post Collection
Best Exchange Rates for Currency Exchange in Erina
Completing your currency exchange in Erina Fair Shopping Centre has never been easier! Whether you're looking for Indonesian Rupiah, Japanese Yen, or British Pounds – they're all available. But it's now even easier to do it online! Just pick your preferred currency – and then choose either the pick-up or home delivery option for your order. Finally, all you must do is enter your payment details – and you're done. It's as easy as that!
Choosing to buy currency online is steadily rising in popularity since this is usually the cheapest and easiest option due to several reasons. Buying online gives you the chance to dodge any unnecessary fees and allows you to use an online currency converter. You also have access to currency guides online which can be helpful in building your currency knowledge and guiding you with your purchases. Additionally, you have the choice to turn on rate alerts so that you're always updated on the changes in the market.
There are some moments when it is especially prudent to order foreign currency online – such as when you find it dangerous to carry around a huge stash of cash. Choosing to order online instead gives you the opportunity of a cashless transaction. Banks and other outlets usually don't stock up on much common currency in-store, which is another factor you may need to consider when deciding on where to buy from.
There is still the option of buying your currency at the bank if the online option is not practical for your circumstances. Just keep in mind that buying currency from the bank is quite different from the buying online experience. How successful this transaction depends on the currencies available and the amount of currency you require. If your preferred currency isn't available in-store, you can always ask the bank to order some. Remember that this will take about 3-5 business days.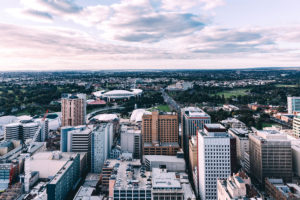 Make It Easy On Yourself, And Change Your Experience For Good
Do you want to get the best money exchange in Erina? Just make an order. Sit back and relax as your travel currencies make their way to your doorstep. No more long lines, difficult parking or poor rates. Getting currency exchanged online and delivered to your address in Erina has never been simpler.
More about how Foreign Xchange works
Foreign Xchange employs the latest technological and operational standards to ensure your privacy and payment details are in safe hands. We only work with premium couriers companies and our deliveries are fully insured for your peace of mind.
Place Order
How to find the best foreign currency exchange rates in Erina NSW
Before even looking to compare different currency exchange options, it is recommended to conduct some research to find the mid-market rate (also known as the interbank rate) for the currency you need. The mid-market rate can be easily found through a quick Google search. The mid-market rate can be described as the 'true' real exchange rate. It is used by banks and other outlets as they trade numerous currencies through global financial markets.
This rate is constantly changing depending on whether the economic status of a country is rising or dropping. It is fairly easy to notice these factors and how they affect the mid-market exchange rate – however, it is usually difficult to predict how they'll move in the future.
After you find the mid-market rate, use it to compare different banks and other outlets to each other, since this will make the differences in their services quite apparent. It is always best to find at least a few banks to compare to each other, since shopping around rises your chances of finding the best dollar rate.
Once you find a great deal, compare the final money amount you'll be spending after any extra fees or charges have been added to the total cost. This approach helps you to pinpoint any hidden fees which the bank may be trying to cover up. Remember to do the extra check – especially if you ever see any outlets advertising 'no fee currency exchange services', since this is nearly never the case. It is a popular way for banks to add fees into your currency exchange without you realising.
Should I buy currency or conduct a money transfer at Travel Money OZ, Crown Currency Exchange, Travelex or somewhere else?
As discussed earlier, usually your safest bet is to head online and pick out your preferred currency there. If you're running out of time or for whatever reason are not able to do this, no worries! There are still plenty of other viable options out there. Using a specialist money exchange store may prove helpful in this area. A specialist money exchanger can usually provide plenty of big stacks of popular currencies (such as the British Pound). Many specialist money exchange stores are working with a competitive rate which means you have higher chances of finding a cheaper option.
Or, as briefly mentioned earlier, the bank may be the option for you. Contrary to popular opinion, banks aren't always too expensive if you keep some tips in mind it can be quite cheap. Unlike specialist money exchangers, uncommon currencies like the Malaysian Ringgit are usually quite cheap when purchased from banks. You can also obtain a travel money card or a money card at a bank. A travel card works much like a debit card, except it allows you to hold multiple currencies simultaneously and locks in the exchange rate on the day you buy the card. This is a great option if you have multiple destinations on your trip.
Or, if you're really short on time, buying currency at Australia Post can be helpful since they have International Express Centres. Just keep in mind that the price of the currency exchange depends heavily on the mid-market rate and can end up being quite expensive depending on when you choose to buy, so it should only be considered as your last option.
In 2019, Brisbane Airport in Australia received more than 24 million domestic and international passengers. With over 425 companies based
The cheapest way to buy Euros in Australia is online. You can save money on commission fees, shopping around
In this ultimate guide, we go through our top 9 things to consider before heading overseas. No matter where